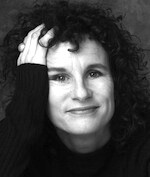 Sarah Davison
+34 653 988 123
tipo de voz / acento: mujer / Británica
origen: Inglaterra, Reino Unido
rango de voz: medio-alto
especialidad: interpretación / doblaje
Sarah Davison comenzó su andadura como actriz/presentadora/actriz de doblaje a los 17 años. Vivió en Londres dieciocho años, donde presentó más de 200 programas infantiles para la BBC y Channel 4. Ha puesto voz a numerosos documentales y ha realizado múltiples grabaciones para la radio y para métodos de idiomas de Cambridge y Oxford University Press. Sarah también es cantante y actriz de teatro y le apasionan el jazz y las armonías complejas.
Publicidad / Corporativos
Voz de Sanex, Puig, Flaix Radio, Festina, Milano Collection.
Audio Guías
Reina Sophia, Thyssen, Miró Foundation, Tapies Institute, Picasso Museum.
Series de Animación
Lilla, Asha, 240 Clone Kid.
Largometrajes
Rec 3 - Génesis, I want to be a Soldier.